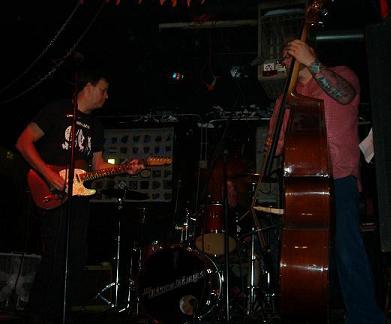 The Dregs began their musical endeavors in the summer of 2006. The band consists of four members; Hank Fauerbach, Michael "Blee" Dennis, Bruce Smith and Kim Schneck. The style of music ranges from 50's rockabilly to heavier swampier originals that touch on the blues and good old fashion rock and roll. Some music influences include Mike Ness, AC/DC, Thin Lizzy, Iggy Pop, The Clash, Ruth Brown, Loretta Lynn and of course the late great Johnny Cash.

Over the course of this past year The Dregs have established a frequent presence in venues such as Wonderland, Cary Street Cafe, Poe's Pub, Rocks, and The Hollywood Grill and are currently expanding to venues in West Virginia, North Carolina, and Pennsylvania.

Bruce Smith leads guitar style is brought together by slew of fender guitars and amps. His unique fender sound brings the twang of country and western and crunch licks of the
60's and 70's rock and roll all into one.

Michael "Blee" Dennis is the man behind the skins. Blee's rocking beats are brought to you by Sonor Drums. Blee is the main driving force behind the dregs and keeps the beat going all night long.

Hank Fauerbach plays the bass one way...by slapping it. Hank plays a King Double bass custom made in California. Hank's love for the upright bass brings the Dregs the Rockabilly feel from the 50's that so many Rock and Roll bands of today have lost.

Kim Schneck is the lovely lady behind the microphone. Although, all members of the Dregs sing selected numbers,
it is Kim's melodious overtones that leave the crowd stunned. Not many little gals pack such a punch as "Miss Kim" and we guarantee you will leave mesmerized!

All in all, it is the goal of the Dregs to give you a rocking good time. The Dregs believe in pulling all facets of 50's, 60's, 70's and 80's music together in one unique package.
The Dregs want you to remember the glory day's of rock and roll in the
spirit of the 1950's rock and roll with the attitude of 1970's British punk rock scene. The Dregs are here to entertain and entertain we do!

If you would like to reach The Dregs to book a private party,
or at a venue please contact Hank @ 804-833-0746

Thanks to all the people who come out to our shows!