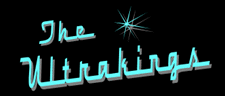 ---
www.rockabillybabe.com

The Ultra Kings
Church of the Weak

I first caught a glimpse of the Ultra Kings and their retro brand of rockabilly at the Mobtown Greaseball several years ago. Their ultra-hip, neo-billy forced me to invite them to the Rockabilly BBQ 06 for another night of hip-swinging rockabilly. That is where I got a hold of their newest album, Church of the Weak. From the first twag to the last clunk, Letís Do It and Say We Did is an upbeat, sexed up ditty, where singer Rick Kuebler begs to change the wording of NO means NO. This true 50ís meets the new millennium romp is a future classic.

Church of the Weak is a bass driven masterpiece, with the mad Zoots Szmigiel behind the wheel. It has a steady stream of doghouse crashing beats that rival a hard driving train running slightly ahead of schedule. Kueblerís clean-cut rockabilly guitar stylings really drives the traditional point home, while drummer Carl Von Ehst drives the last nail into the proverbial backbone. Church of the Weak opens its doors as a mid-tempo drinking tribute to those of us who visit the corner bars across America. ďThere ainít no preachers and there ainít no sins,Ē Rick proclaims. This bar hopping song letís you know that itís ok to visit your local fellowship establishment without feeling down. Two Martinis and Spinning My Wheels are two of my favs where the Ultra Kings strut their stuff with self-depreciating euphemisms about drinking and going nowhere fast. Two things that we all know too well.

This album is a fabulous tribute to the good olí times and is a true, traditional rockabilly album that holds lots of frills. It is dark, yet upbeat. Itís lonely, yet energetic. Itís classic, yet new. By the time Afternoon in Paris arrives, Iím two beers and two cigarettes into the album and Iíve grown very fond of the laid back Ultra Kings vibe. Paris keeps the tradition alive as it chases a red lipped, blacked haired, blue-eyed beauty around town.

Trailer Park Lolita, pulls into the church parking lot as a geared-downed love song to the white trash queens of America leaving a desolate, trailer park king without his ride to the bar. The Kings have a way with words, a way with traditional rockabilly and they had their way with me. I feel dirty and violated, but I loved my visit to the Church and will be back every weak chance I get. Pick up your copy of Church of the Weak at the Kingís website www.UltraKings.com

Mark
9/10/06


---
www.rockabillybabe.com

The Ultra Kings
Streamlined Deluxe

The Ultra Kings from Bethlehem, PA, arenít your usual garage-a-billy band. They donít pretend that the music that they play can be simply tied to rockabilly by sticking the affix on it. They are seasoned musicians with a 13-song release on Barnburner Music. Their 50ís influenced, honky tonk-rockabilly mix is so true to the era that you canít decide if they are old or new.

Streamlined Deluxe kicks off with I Like Rockabilly, a mid-tempo salute to the greatest pastime ever. Singer/guitarist, Rick Kuebler, uses this ditty to poke holes in the blues, country and every other genre that thinks they have it going on. From cars to girls, Kuebler points out why rockabilly rules. Streamlined Deluxe rolls into the title track, a slow dragging, and hard-hitting driver about the feeling about being behind the wheel of such a monster.

The Itch is a upbeat swinger powerhouse held together by the backbone of upright bassist Zoot Szmigiel and drummer Carl Von Ehst, with special guest Dave Smith on the flaming sax. Together this band makes The Itch sound like a 50ís Hollywood soundtrack. Olí Bobcat is a humorous insight to all the cool cats and how hard it is dealing with being on the bottom. ďIím an olí bobcat and I donít get no tail,Ē Kuebler confides. The rockabilly goes up and up as Streamlined Deluxe spins on and on. Uh Oh, pulls out all the stops as a duet featuring Uncle Hank Fauerbach and Jessie Lee Miller. Uh Oh is a therapeutic discussion on a challenging relationship while channeling old influences. The duel voices come through as angelic and dysfunctional.

So Many Pretty Women is a hot-boxing, mid-tempo thumper about picking up the girls. Diggy Doggy Daddy is about a dog. A hot dog. A real dog. The rockabilly groove is in full effect and Diggy Doggy Daddy displays the greatness of the Ultra Kingís ability to drive it home. Rounding out Streamlined Deluxe is a song about the wrong girl and the right time. Abba on the Stereo provides you a story of classified ad hook-ups and what a hot girl with long blond hair can have that you donít want. The Ultra Kings were and are such an impressive act that we had to get them to next yearís Rockabilly BBQ. You can pick up a copy of Streamlined Deluxe on Barnburner Records at The Ultra Kings website. - Mark 11/01


---
The Ultra Kings are a blend of the rockabilly stylings of Ronnie Dawson, Eddie Angel, and Brian Setzer all rolled into one high energy kick ass band! These guys are the whole package, talanted and stylish entertainers. Streamline Deluxe mixes classic rockabilly with straight up rock and roll for the correct balance of happy, fun music. This is the stuff DJ's live for. Music that makes their listeners call and request more.

Melanie Thiel, DJ WNTI 91.9 FM
Development/Programming Director
---
The Beat

By Monica Ortwein, Associate Editor

Ultra Cool Cats

Retro rockabilly sounds will ring in the new year when The Ultra Kings take the stage during First Night Bethlehem.

The Ultra Kings are rockabilly guys at heart, right down to having the upright bass, the swinging guitar sound and the abundance of lyrics about girls, cars and girls ... and even more about cars ... and did we mention girls yet? But girls and cars are fun, and weíll be the first ones to admit it. And speaking of fun, thatís the perfect word to describe The Ultra Kingsí second CD, a 13-track disc called Streamlined Deluxe. The disc features songs with names like I Like Rockabilly and Diggy Doggy Daddy (samples of both tracks can be heard at www.ultrakings.com, and we highly recommend listening to them if youíre in a bad mood). If Streamlined Deluxe has already been making its rounds in your CD player since it was released last year, donít worry Ė The Ultra Kings are working on a new album, another 13-track jaunt (hey, theyíre superstitious, OK?) that should be out sometime in 2005. Word is the group wonít be changing up its sound all that much, so diehard fans donít have to worry about the band losing any of its jump or jive.

In addition to guitarist and lead vocalist Rick Kuebler (who may look familiar to you since heís also a piercer and tattooist at Imperial Tattoo in Bethlehem), the Kings are bassist Steve ďZootĒ Szmigiel, drummer Carl Von Ehst, and vocalist and backup bassist Hank Fauerbach. We caught the Kingsí short set at the Lehigh Valley Music Awards, and seriously, what youíve heard about them is all true Ė this is one group not to be missed.

PULSE WEEKLY: Besides the sexy pinup girls, what turned you on to rockabilly in the first place?

RICK KUEBLER: Back in the early 80s, Brian Setzer. Rockabillyís all Iíve been playing for the past 20 years.

PW: So ... can I ask you how old you are?

RK: [laughs] I canít tell you that.

PW: Well, it was worth a shot. When did you first start playing guitar?

RK: As a wee little lad. Thereís actually been a lot of time in-between when I didnít play, because I started a tool business, and I just stopped [playing guitar].

PW: Hereís something we always like to ask bands: Why have you decided to stay in this area and play music, as opposed to taking off for somewhere more glitzy and glamorous?

RK: Well, I guess itís the money. You can make more money around here than playing in Philly, because down there youíre usually put on a four-band roster. But we donít really play here a lot, we play out of town a lot more than we do here Ė we do stuff up in the Northeast, a lot of the car shows.

PW: So youíre a car guy too?

RK: Yeah, I have, like, four cars or something. The nicest one I have is a Ď59 Chevy Impala. I restored it myself.

PW: Oh, nice. What would you say is one of the most memorable shows youíve either played at or been to?

RK: The Hot Rod Hoedowns are good. We just take our motor home down and party all weekend. Itís a good time. [Editorís Note: You can find out about next yearís hoedown at www.hotrodhoedown.com.]

PW: Whatís been making the rounds in your CD player lately?

RK: Lee Rocker; heís from The Stray Cats. Hash Brown; heís real jump-blues. Nick Curran plays guitar in [Brownís] band Ė heís a big blues player now, but he came out of the rockabilly scene.

PW: Whatís your favorite thing to write about when youíre composing lyrics for The Ultra Kings?

RK: Girls. Well, not always. But thatís a good starting point.

PW: It sure is. So tell me about the new album.

RK: It should sound like the [old record]. Itís going to be called Church Of The Weak. We have a song called that Ė and Iím sure you can figure out what itís about.

PW: Some of your albums have actually been distributed in Europe. Are they really that big on rockabilly over there? We thought that style of music was primarily an American thing.

RK: Thereís a huge rockabilly scene in Europe. Itís bigger there than here, for as small as Europe is. They love American rock Ďní roll music, which is where rockabilly started Ė rock Ďní roll and hillbilly.

PW: Speaking of hillbillies, are you guys big drinkers?

RK: [laughs] I canít tell you that. We like to drink. On occasion.

PW: If someone at a show were to buy you something from the bar ...

RK: A dirty martini, straight up.

PW: Delicious.

Are you under 21? Or sick of drinking the last minutes of the old year away in some sweaty bar on New Yearís Eve? For more information on all the goings-on at the alcohol-free First Night Bethlehem event, check out firstnightbethlehem.com.


---
John Terlesky, MORNING CALL

Slicked back cool; while some acts try to reconstruct music from
rootsy sources, the Ultra Kings are about preserving old structures intact.

John Terlesky, MORNING CALL


---
Robert Hicks TIMES-Express

The Ultra Kings, Blast rockabilly into the present.

Robert Hicks TIMES-Express


---
Rich Gensiac WMUH, Morning Call

BARRELHOUSE ROCKABILLY!!


---
Harry Dobbs, Now Dig This Mag UK

Listening to these (songs) brought back memories of Gene vincent's
1971 backing group, The Houseshakers.

Harry Dobbs,
Now Dig This Mag UK


---

Melanie Thiel WNTI 91.9 FM

Hi Rick!
I'm listening to your CD as I type this and it's smokin'!!!
Right up my alley and will be played this Wednesday on WNTI.
Thank you again.

Melanie Thiel
WNTI 91.9 FM


---

Mike S.

Hi Rick!
Great show last night. You were really ripping those guitar
strings around! You looked like a Man possessed.....
Catch you later,

Mike S.


---

News

Shows

Music

Photos

Contact

Links

---