---
3/21/6

Couple more shots of the back of my toolbox...
Starting to get the hang of this... Makes it a lot less stressfull when it comes out pretty cool...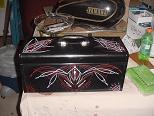 ---
3/7/6

Here are a couple shots of a welding mask I striped.
I am not all that happy with the design, but my line work and symmetry
are getting better... I am striping it for my buddy Mark who helped me out on the Kawasaki...
Mark is the man with the plan, so while he is in Tennessee this week,
I figured I will stripe his mask...

I am still getting use to loading the brush properly.
I cannot get the consistency I need to get good lines every time...
gotta start somewhere...






Here is a shot of a clock and a toolbox that are in process as well...


---